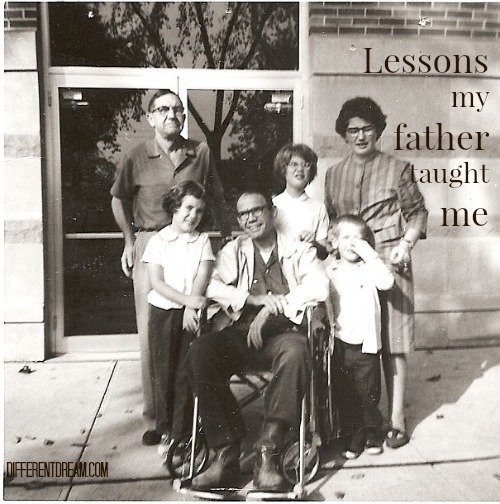 Special needs caregiving has always been part of my family's life. Guided by our determined and capable mother, we cared for Dad in our home for over 2 decades after he was diagnosed with multiple sclerosis in 1959. When he moved to a nursing home in the early '80s, Mom fed him supper every night. We brought his grandchildren to visit as often as possible. My father, once a gregarious and outgoing man, quickly lost the ability to walk. By the time he died in 1997, Dad couldn't talk and required total care. Even so, he passed along some special needs caregiving lessons I treasure. This month, in honor of the 20th anniversary of his passing from this life to the next, here is the caregiving wisdom I gleaned from him.
Lesson #1: Don't Waste Your Health
Good health is a gift from God. We are called to steward our health by eating healthy food and getting enough sleep and exercise. We are also called to use the gift of good health to make this world a better place. When I'm tempted to sit by the pool and eat bonbons, the image of my father laying in his nursing home bed for 14 years compels me to get up and get busy.
Lesson #2: Children Add Sparkle to Life
Whether my siblings and I brought friends home to play after school, or years later, when his grandchildren visited him in the nursing home, children brought sparkle to Dad's life. We can bring sparkle too, by inviting children into our homes to visit the loved ones in our care.
Lesson #3: People Matter
My dad was well-known in our community before his illness. Many friends, family, and people from our church family visited him faithfully for years. He welcomed every visitor (and unsuspecting stranger) with love and gusto. His response said that people matter not because of what they do, but because they are.
Lesson #4: Presence Is Important
My dad couldn't get out and about for the last two decades of his life. As his speech failed, he couldn't contribute to conversation either. Even so, several faithful men continued to visit. Sometimes, they would sit beside his bed and reminisce or talk about current events, as Dad gazed at them and grinned. Sometimes, they would sit quietly and return Dad's smile. Even when loved ones can't talk, we can encourage others to bless them with the gift of their presence.
Lesson #5: A Smile Speaks Volumes
My memories of conversations with Dad are growing increasingly dim. But his smile–all I have to do is close my eyes, and there it is–an indelible memory to cherish. If his smile holds such power in my memory, did my smile do the same for him? Can the smiles of caregivers carry a similar impact? Just the possibility that it might have such power is reason enough to smile at loved ones often!
Lesson #6: Love Endures
Through our parents, my siblings and I experienced the beauty and pain of enduring, selfless love. My mother loved and cared for Dad for 38 years. Those years were hard, selfless, exhausting, and rewarding. To the end of his days, Dad's face lit up when Mom walked in the room. He couldn't remember his children or friends, but he knew and loved his wife. When I contemplate the love of Christ for those He calls His own, I thank God for my parents. Because of them, I know what it means to fully love Christ my caregiver who loves and cares for all His children.
Jolene Philo grew up with a disabled father and raised a child with special needs. She has also welcomed kids with special needs into her elementary classroom for 25 years. She is the author of several books about special needs parenting, caregiving, and special needs ministry. She blogs at  www.DifferentDream.com and speaks around the country about special needs parenting and inclusion ministry. Jolene and her husband live in Iowa, are parents to two adult children, and are known as Grammy Jo and Papoo to their three adorable grandchildren. You can connect with her on Facebook, Twitter, and Pinterest.
Save
Save